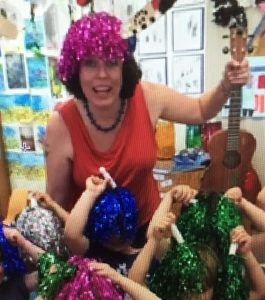 NEXT SEMINAR IS ON THE 16TH OF JUNE AT WALLUM COMMUNITY PRESCHOOL 9 – 11.30 SING DON'T SCREAM BOOKINGS ESSENTIAL.
The benefits of intentional teaching with music in your school 
You can do it anytime and anywhere
Great ideas for transitions time
Peer learning and scaffolding
Exceptional results with  "physical learners: AD
Brain benefits – music rewards the brain
Improves "actual" listening
Helps language skills and confidence
Literacy and numeracy improve through joy
All the while learning about different  cultures
Inspires teacher and students alike
All interactive and all FUN
Lil Fi is endorsed by Maggie Dent and is part of the Northern Rivers community of NSW. Teaching over 600 children in early years learning centres, preschools, long day cares and OOSH. A multi award winning artist with over 8 albums and many years working with children. Lil' Fi has and interactive show for your school and a seminar to help your staff really get the best results of intentionally teaching with music. Appropriate for Preschool teachers primarily but also perfect for anyone who wants something to support their program and give them an extra musical edge. Find out how the brain works on music. IT'S AMAZING !
Lil' Fi is available to come into your centre and teach your educators in person.
Either in an interactive workshop for your staff training night.
1 hour, 2 hours or 3 hours are available
A Show for the kids and then a parent information session is great to do as well.
Complete the form below to contact the office and get a quote for your service.